June 29, 2010
OMNI wins Iron Designer award for STRUCTURAL INNOVATION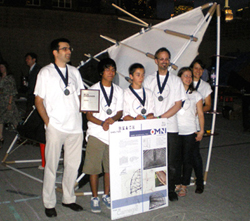 Last month OMNI was proud to take part in the first Iron Designer Challenge, presented by the Urban Assembly School of Design and Construction (SDC).

Based on the popular television show "The Iron Chef", the Iron Designer Challenge raised funds to support the design program of the SDC, whose inner-city students aim to become tomorrow's Engineers, Construction Managers and Architects.

The competition was undertaken by ten teams of professionals from some of the largest architectural, engineering and construction firms in New York City. Partnered with SDC students, the teams faced-off in the ultimate design/ build competition: to construct in 3 hours a life-size emergency shelter made from simple, everyday materials. Built in front of a live audience, the challenge was juried by acclaimed experts in the field of design, construction and education, including David Burney, FAIA (Commissioner, New York City's Department of Design and Construction), Gregg Pasquarelli, AIA (Principal SHoP Architects, SHoP Construction), Caroline Payson (Director of Education, Cooper-Hewitt National Design Museum), and Joel Towers (Dean of Parsons the New School for Design, Partner SR+T Architects).


Our hardworking team not only earned the award for Structural Innovation, but was also featured as the favorite of Metropolis Magazine, which recently covered the event. Dwell Magazine was also present, which featured our structure in their coverage of the challenge.

Overall it was a rewarding experience for all involved, and we look forward to future opportunities benefiting this exceptional school.

Please visit our Flickr stream to view a slideshow of the event, and click here to view our design inspiration board.